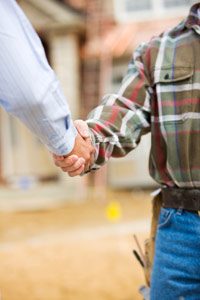 Understatement Alert! When you're looking to hire a general contractor for your home building project, you're going to want to find someone you trust, someone you can work with, and someone with the experience and knowledge to get your project done right!
Finding the right general contractor is not only essential to the success of your project, but ultimately the pleasure of the entire undertaking. You'll want to spend the time it takes up front to ensure you find the right general contractor for you, and the best fit for your home building project.
Experience
Does the general contractor have the experience required to meet the scope of your project?
Take a look at their portfolio. Has the contractor done similar work in the past, and how long have they been doing it?
Does the contractor have the proven skills, experience, and attention to detail to meet your needs?
It is absolutely okay to ask for references and referrals.
Resources
In a small place like Vermont, it helps tremendously if your general contractor has reliable relationships across the industry to help your project come to life.
Does your general contractor have a network of reliable subcontractors that they trust and work with regularly?
Does the general contractor have the workforce to handle your project?
Communication
Does the general contractor effectively communicate, listen, and work with you constructively?
You cannot underestimate the importance of effective communication; it's what keeps projects running smoothly and on time.
Choose a general contractor that is skilled at helping clients get their ideas out of their heads and onto paper.
Is your contractor over-committed? How many projects is your contractor juggling at once? Will they be able to give you and your project the time and attention it deserves?
Is your contractor equivocating on the price estimate, or are they as willing to communicate about costs as they are about construction specifics?
These are just a few of the things you'll want to consider when you start looking for a general contractor for your project. It's said that your home is where your heart is, so you should put your heart into it from the get-go, and find a general contractor that can recognize and reflect that passion back into your project.
Happy Holidays from all of us at Smith Building Company!