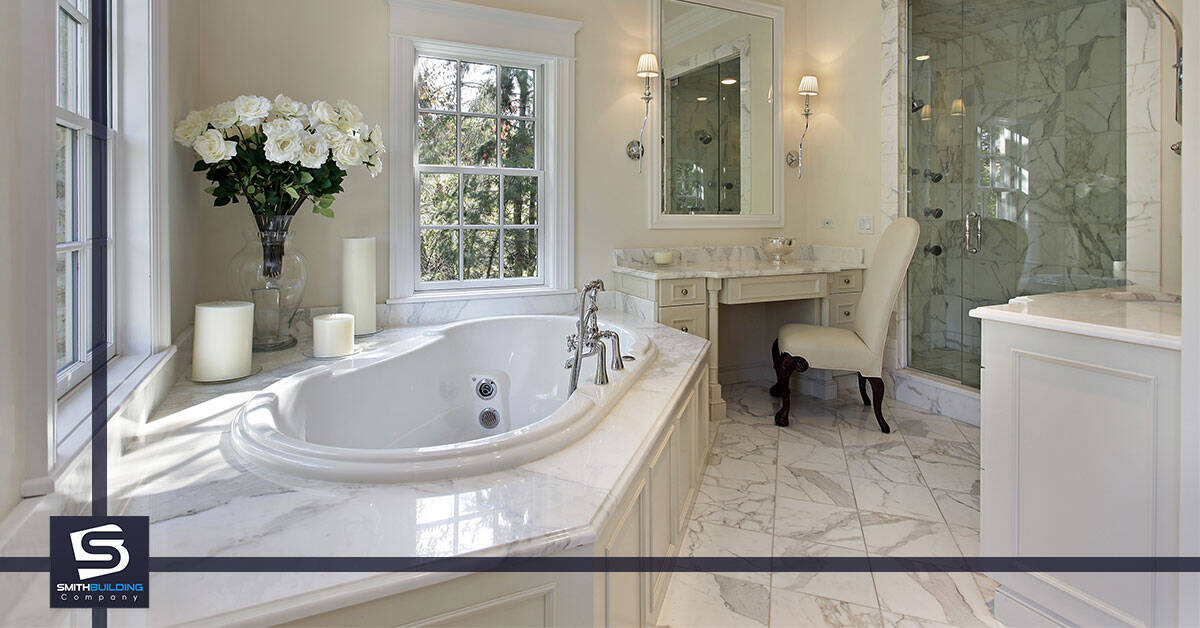 Your dream home should have all of the comforts of… well… home! Your abode is, after all, the place where you'll spend a huge chunk of your time. So, every room counts. You've dreamt up the dream kitchen (decked out in marble, sleek tile, porcelain fixtures, and a stainless steel, double-door refrigerator). You've also settled on the perfect bedroom (equipped with a walk-in closet, plenty of room for the king bed, and a private deck for morning coffee). But there's something missing, something crucial to fully capture the soul of your home. What could it be?
The Master Bathroom
While a bathroom is just that – a bathroom – it can be so much more. If you're custom building your home, or renovating it to meet your every whim, you have all of the freedom that a blank canvas offers. So why not seize the opportunity? What would you like in your custom master bathroom? Let's dig into the various crucial components of a bathroom:
The Shower
You absolutely love your shower time. You demand an expansive shower. Two shower heads are a must. Slate tiling would feel quite good underfoot. And frosted glass will do to form the boundaries of your shower. Perhaps there should be a bench surrounding the exterior. The soap requires a shelf. The shampoo requires another shelf. Oh, and don't forget the conditioner, room for a scrubby, and a loofah, and that moisturizing facial mask stuff. Where is your razor going to sit? OK, now where will the towels go? Wait, what about a steam shower? Yes, you've always wanted to install a steam shower in your dream home; now is the time to do it. Shower… check.
The Spa
Next, it's onto the tub. We face some similar issues, but the first thing that matters is size. You simply must have a two-person spa. Jets? Absolutely. You also want to have plenty of shelf space for candles. Once again, where are those towels going to go? Alright, that'll do. Wouldn't it be nice to have a few plants nearby? Succulents don't need much light, and they'd look great beside the tub (we'll have to leave some shelf space in the corner then, I suppose). Speaking of lighting, you've always wanted a skylight above the tub. What material will the fixtures be made out of? Brushed nickel? Copper? Stainless steel? You know best.
The Vanity & Sinks
Are you content with just one sink? No? OK, we'll go with two sinks. Now what about the mirror? Would you prefer two stand-alone mirrors? Or just one wide vanity? What about the cabinetry. You'll need more than just enough space for a toothbrush. Set aside some room to store all of the cleaning supplies. Do you want shelves for your q tips? Your hair products will have to go somewhere. Also, allot some space for your hand and skin lotions.
The Loo
It may be the last thing on your mind, but the toilet deserves some thought, just the same as the rest of your bathroom. You've always wanted an efficient toilet; better check out the low gallon per flush units. And it'd be best to match the color of your loo to that of your tub and the sinks.
The Closet
Onwards. It's time to consider the closet. You need extra space to stow towels. Also, you'll need a bit of space for extra toilet paper. Don't forget about backup toiletries. Do you keep your vitamins in the bathroom closet? What about medicine? Where are those bandaids going to go? Perfect. You've found a spot for each item that you'll need.

Custom Home Designs from Smith Building Company
If you have a dream home in mind, we have the builders to bring it to fruition. We specialize in providing custom home builds and renovations, including, of course, bathroom builds. So, when you're ready to build the dream master bathroom to match the dream master bedroom (all within your dream home), you can count on the Smith Building team. Feel free to take a look at our portfolio of completed projects, or learn more about our building services. Ready to get started? Don't hesitate to get in touch with a Smith Building Company representative to take the first steps toward the home of your dreams!